Jennifer Edifi, the lady who was captured in viral video clips on the 25th of February, 2023 at her polling unit with a plastered face and blood streaming down her right cheek during the 2023 general elections has recounted what inspired her to return to her polling unit to cast her vote after she was attacked and brutalized.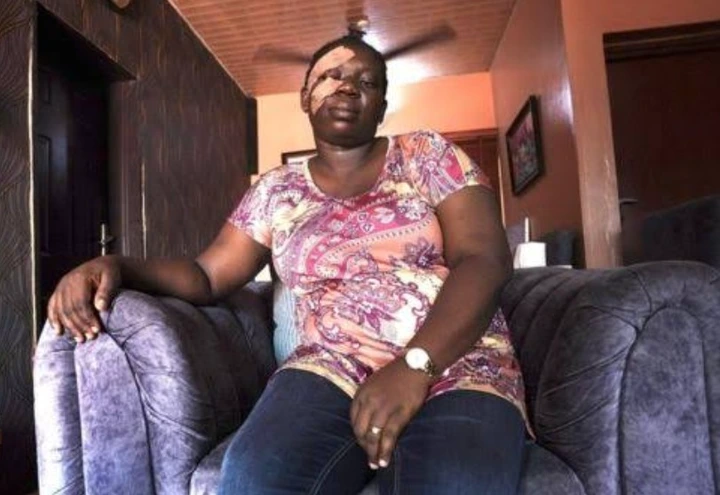 Edifi disclosed, in an interview with Punch Newspapers, that she had always avoided electoral activities in Nigeria until 2023. She said she decided to exercise her franchise in the 2023 general elections due to the surge of political awareness among the youth to take back the country.
On the day of election, she said she went to her polling unit and everything was going seamlessly until a group of boys pretending to be voters arrived. She said she didn't pay attention to them when they arrived but someone close to her called her attention.
After a while, she said she heard a gunshot and simultaneously felt a huge impact on her face. She said she couldn't see clearly with the eye but with the other eye, she saw people scampering for safety after the gunshot.
She added that all the people who saw her face screamed and ran away. She managed to run into a building where the polling unit was, therein, she saw a woman who assisted. She said the woman held her and used handkerchief to put pressure on her face in a bid to stop the bleeding, however her efforts proved abortive.
Subsequently, she said she was taken to a hospital where she was treated. After leaving the hospital, about two hours after the attack, she said she saw that voters had reconvened at the polling unit and the electoral activities had continued.
Speaking on what motivated her to return to the polling unit to cast her vote, Edifi said she wanted to make her vote count after all the struggles of getting registered, collecting the PVC, coming out there to vote, and having been afflicted. She said she also had the support of her husband.
"At that point, when I saw that, I felt that this was what I wanted to do to make my votes count, and despite all my struggles, getting registered, collecting the PVC, coming out there to vote, and having been afflicted this much, I had to cast my vote" –she narrated.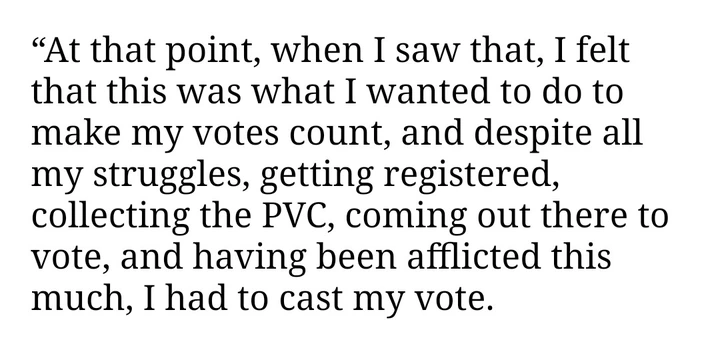 After being cut on her eyelid and eyebrow, Edifi was about to cast her vote. She said her eyes have been examined and there was no damage to her eyes. However, it is still very swollen and in fact, still covered. She said there is likelihood that there will be scars later after the stitches have healed. She noted that she has not been able to sleep well since the incidence.