A source claims that the two female sanitation workers killed on Monday in the Charlie Boy area of northern Gbagada, Lagos State, were siblings; they both worked for the Lagos Waste Management Authority (LAWMA).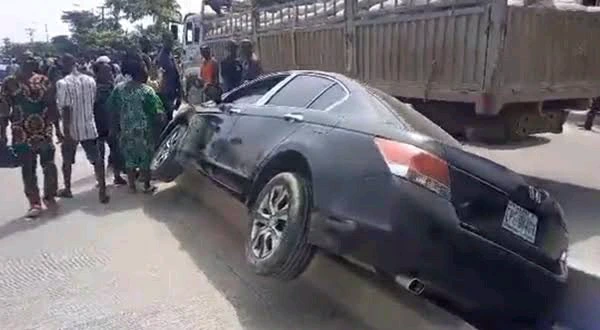 The two victims were prominent All Progressives Congress (APC) members from Bariga's Ward B, and one of the sisters, Mrs. Adefuye, a resident of Ajenipa Street in the Ladi-Lak area, celebrated her 60th birthday on Sunday, as reported by The Nation.
The source, Ruth Lijirin, who happens to be a Bariga local and fervent APC supporter, who was there at the scene of the accident, revealed that she was the one who assisted them to acquire the job.
She revealed that the two deceased LAWMA cleaners were actually siblings. Yesterday (Sunday), one of the sisters turned 60; the other is probably 63. Their late mother is still at the funeral home. I was present this morning, along with the community chairman and the DPO from the Bariga Police Station, when the sad incident occurred.
She said, "It was a tragic situation," as she spoke further. To no avail, I tried to reason with the LAWMA employees. I also urged the victims not to impede traffic out of retaliation for the tragedy.
According to witnesses, the driver attempted to elude law enforcement by colliding with a group of LAWMA employees. The Lagos State Traffic Management Authority (LASTMA) was accused by protesters at the site of pursuing the driver guilty for the fatal crash.
The scenario caused the Gbagada-Oshodi Motorway to be blocked, leading to hours of traffic congestion and leaving many drivers and passengers stuck.
While addressing the event, Hon. Kolade David Alabi, Chairman of Bariga Local Council and National President of the Association of Local Government of Nigeria (ALGON), urged the victims' coworkers to be calm.
Additional details revealed that, according to a statement released by LAWMA, the street cleaners were struck by a careless driver as they were performing their legally mandated and greatly appreciated services for the residents of the Gbagada axis
Opera News